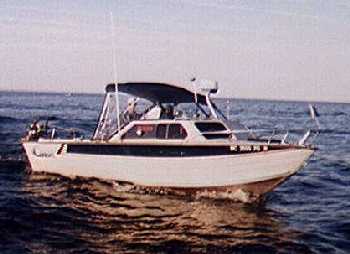 Welcome to my fishing website. This is my twenty-eigth year of logging my Lake Superior Fishing adventures. I synopsize most trips, generally describing my adventures, successes and other details out on the Big Pond. My boat is appropriately named "Cooler By The Lake". I am just a plain fisherman who loves to fish Lake Superior, mostly for Lake Trout. I do

not

run a charter. I try to update my reports after each trip. Thank you for following us on our Lake Superior fishing journeys. Please if you have any questions or suggestions on my reports or narratives. Compliments are also welcomed.
"Cooler By The Lake"

Marquette, Michigan

2023 Lake Superior Fishing Log
Click here to see last year's log or click here choose prior year fishing reports
3 Jun 23 Another beautiful, calm day albeit a little smokey and hazy from fires in Canada. Ron and I set lines at 145' and pretty much ranged between that and 180'. Nothing the first hour but then one here and there. I missed several as did Ron. Ron had a SLD and the bottom one got off and I managed to knock off the top one whilst netting it so that was unproductive. But we did pick up 8 Lakers in a little under 4 hours. Just before quitting, I hung my rigger and it was a scramble to turn the boat while Ron got his rigger up. Doing a 180º I got behind the snag and fortunately got everything back in tackle, but lost a lot of rod line. No biggie there! Great day!
2 Jun 23 No windy conditions at the crack of dawn and the forecast still looked good so Cooper and I headed out under calm seas and winds. The first hour was a bust, hardly marked anything and caught zip. Mumble, mumble. Then slowly we ran into marks and better yet, hits and scores. The mumbling stopped. With 7 Lakers in the box we thought we'd go a bit longer to 3 hours tdhen quit when wouldn't know, a quad, a single line double on Cooper's rigger and one on mine and one on the Johnson. We need only 3 but had 4 on so we released the first Laker as it was in good condition. We took the chance we'd box the other three and we did. BTW, this is the worst year for mosquitoes I can remember for a long time. They even found us on the boat, miles out from shore. How do they do that?
1 Jun 23 Here it is June already. I don't like to repeat myself but I again awoke to windy conditions but a favorable forecast. That being said, Grandson Cooper and I left, fished and returned in beautifully, calm seas. Action started slowly, marking a few and getting no hits. Then, things picked up, sort of, I missed 3 bell ringers but Cooper did the heavy lifting catching some nice Lakers. Highlights were Cooper caught a single line double and both fish were tangled together and it was pure luck I was able to get both of them in the net at the same time. That was a first! He later got another SLD and I picked up a couple. When quitting, we pulled the Johnson rod and the lures were a tangled mess. No wonder it didn't produce and fish. Tons of marks and we ranged from 135' to 190'. We ended in 3 hours with 10 modestly-sized Lakers and a fun trip.
28 May 23 Today started much like yesterday with lots of wind early but a good forecast. Well, Ron Mattson and I launch to perfectly calm seas and winds. It was a pleasant ride to our favorite place where we set lines in 160' of water. Action was steady and we started with a triple and netted only one. It was a day of misses - 6 misses, maybe more but we didn't care as it was beautiful out there. I think I put my light jacket on and off 5 times. We marked more fish than I've seen in years. Hits were steady and we ended with 10 modestly-sized (that means nothing over 4#) Lakers in 2 hours and 15 minutes. What a great time, and the ride home was smooth as glass. BTW, we had a guest bird for an hour or so. We should have taken a picture but we were busy. We think it was a warbler.
26 May 23 I awoke to windy conditions at home, trees bending and my flag straight out. Mumble, mumble! But checking the forecast, it still was good. So Grandson Cooper and I launched to calm seas and winds and off we went. Although the air was 53º and water 43º, there being no wind and mostly sunny, the winter jackets came off but placed within arm's reached. After about half an hour, the Johnson hit followed by both riggers. That was the first of 2 triples. Tons of fish marks! Then Cooper hit with a single line double and with 9 Lakers in the box, we decided to troll towards home and where we first dropped lines. Then Cooper's rigger bell really rang and our first thought it was a single line double but it turned out to be an 11# Laker, a nice lean. So we headed homeward in 2 1/2 hours with our limit on still-calm waters for a great day on the Big Pond.
22 May 23 Yet another forecast got awry. Expecting calm to 5 mph from the SE and high mid 70ºs (I knew it wouldn't be 70ºs) to the reality of ending with 13 mph and 1-2' seas. The high temperature was 45º (water 38º). That being said, Gary McConnell and I started slowly but marked quite a few, which is always encouraging. Action, along with the wind picked up and the first hour and a half we picked up 7 nice Lakers. Turning into the wind we picked up two more before the wind spun us around and that was a message to bunch it. Still, a very good day with a nice catch in 3 hours.
17 May 23 Here I go again with the forecast. Last night and early this morning the forecast was for light and variable winds, turning east at 5 mph in the afternoon. Great I thought! So Grandson Cooper and I hooked up the boat and down we went to the boat launch. En route the Lake looked a little rough in the harbor and I though with that forecast it might be decent enough to fish. Pulling into the launch there were no trailers which was a clue it wasn't a good day to go our. Then, we looked out to sea, only to see big waves crashing over the breakwater. Well, that was an easy decision and home we went, quite disappointed of course. So much for light and variable! Here we are in a big boating community and we don't even have a data buoy nearby showing wind and wave heights. Gee!
14 May 23 The forecast was for NE 5mph and that's seldom good but Ron and I decided to try it anyway. We left the launch into calm seas behind the breakwater and then turned the corner around the lighthouse to 1-3' rollers. After a couple of quick boat bangs, down went the speed and trim tabs. A new plan suddenly developed for fishing closer than planned. But there was very little wind but the rollers forced our rusty sea legs into action. Action was quick with the Johnson rod picking a nice Lake up within the first 10 minutes, followed by one on Ron's rigger. About 45 minutes later the Johnson rod again produced a Laker. Then the doldrums set in without another hit until we were pulling lines to quit after a little over 3 hours. It wasn't difficult fishing into the rollers but the motor worked hard going into them, plus we could tell there was a strong current. Thank goodness winds were very light as the air was 41º and the water 38º. No coats came off today. Good trip!
11 May 23 Another beautiful day with grandson Cooper Smith joining me. Seas were beautifully calm as we set lines, of course same place as last time, in 125' of water. Expectations were high but the first hour went without any runs, hits, or errors, only a few fish marks. Finally, the Johnson rod connected with a single line double and slowly the other lines produced some nice Lakers. We had one major goat rope with the Johnson tangling into a rigger with a fish on. After lots of work cutting and untangling lines and a few blue words, we didn't lose any tackle and landed the fish. The air temperatures varied from 45º to 55º so off with the coat, on with the coat. It was perfectly calm when suddenly a wind came out of the north at 14 mph and it made steering very difficult. Gradually it back off, it just that it caught us off guard. Hardly any action the last hour and we wrapped it up with 9 Lakers in just shy of 4 hours. Pretty good work eh!
9 May 23 Finally, our shakedown trip happened. Ron Mattson and I were purposefully going slowly connecting the boat to the vehicle and launching. First trip of the season something usually is forgotten but not this time. The big motor started with a little patience but the kicker motor just didn't want to fire. Well, someone forgot to pump the fuel bulb. Once done it started right away. Off we went on beautifully calm seas and a hazy sun. The air was 43º and water 37º. I had just commented to Ron why there wasn't any skim ice after a calm night? Well, about halfway to our destination, we ran into a couple of mile-long patches of skim ice but it wasn't a problem, just a little noisy. We set lines at 125' and quickly moved to deeper water. It wasn't 10 minutes before the Johnson rod bounced and produced a nice Laker. Ron commented that was a sign we were going to do very well. Having been down this road, I cautioned him against interpreting a quick fish as a good omen. Well, once again I was proved wrong as the action picked up and remained fairly steady. Ron caught a single line double and did most of the heavy lifting as I think my side of the boat was just along for the ride. The good news is we finished up with 10 nice-sized Lakers in a little over 3 hours and no goat ropes. Conditions couldn't have been better, including the smooth ride home. Great day and great way to launch our fishing season. Stay tuned!
You are visitor number 1,000,006 (just kidding)