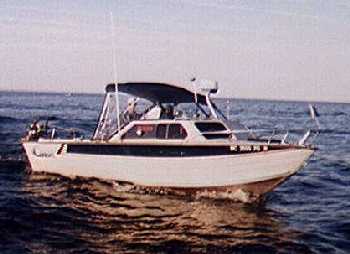 Welcome to my fishing web site. This is my twenty-forth year of logging my Lake Superior Fishing adventures. I synopsize most trips, generally describing my adventures, successes and other details out on the Big Pond. My boat is appropriately named "Cooler By The Lake". I am just a plain fisherman who loves to fish Lake Superior, mostly for Lake Trout. I do

not

run a charter. I try to update my reports after each trip. I think of it as a log but some might say it's a BLOG, mox nix. Thank you for following us on our Lake Superior fishing journeys. Please if you have any questions or suggestions on my reports or narratives. Compliments are also welcomed.
"Cooler By The Lake"

Marquette, Michigan

2019 Lake Superior Fishing Log
Information on tagging. About 5 of us local fishermen participated in a Michigan DNR Lake Trout Hooking-Mortality 6-year study being conducted in Marquette (Lake Superior) beginning in 2010. This unique study determines hooking-mortality rates of lake trout to help DNR biologists evaluate whether certain size limits are having the desired management outcome. The tagging portion has ended in 2013 but data was collected on recaptured Lakers through 2015. Click here for my highlights during the study. The study has been completed and published. Finally I got a copy of the article that appeared in the Steelheader Magazine in 2018. Click here to see the article in PDF format.
Summary for 2019
Click here to see last year's log - 2018 or click here choose prior year fishing reports
3 Nov 19 Finally got to my report for 2019. It was an enjoyable season, as I find time on the water almost always most enjoyable, even more so with guests. Fishing, well that's a great excuse to be on the water. If you read last year's report of wind and rain, well this year it was just as bad. Last trip was on 20 September and until 15 October, not a fishable day so I decided to wrap it up. Usually we get some late-year nice days and some of the more productive ones but not this year. Following a late Spring, we did have some very good summer days but also quite a few where we struggled to catch just a couple. Hate to whine but fishermen are allowed to do that. On a much brighter note, have a Merry Christmas and good winter (not like last year) and I'm already thinking about an early Spring. How about that! Oh, can't forget to thank all you followers on my web site. Thank You much!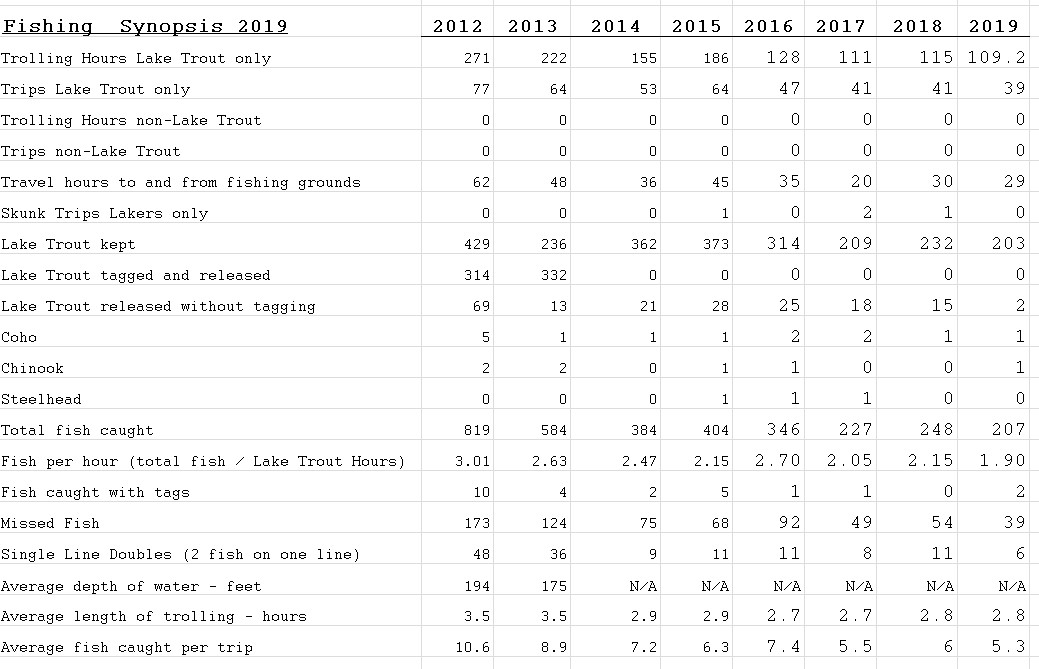 15 Oct 19 I waited paciently for 25 days to get a break in the winds and rains but no luck. Forecast for next several days isn't any better so I reluctantly put up the boat for a season. Summary report I'll compile and report in a week or two. Sad day!
20 Sep 19 A break in the winds - good news. Heavy fog not good news so Jim and I naively (denial) waited another half hour beyond our planed to launch in the heavy fog. Radar spinning, dodging boats, we headed to our favorite spot. We set lines at 125' and quickly had two in the box. I was still rigging my rigger and got the bottom lure on and send it down about 8' so I could see the action. I went to connect my stacker line and wondered what I screwed up as the bottom line wasn't there. I looked out to see a Coho jumping on my line. WTF! So much for being scared of boats! So with 3 fish in the box in 20 minutes, 60 minutes passed without a hit. Lessons in over-anticipation, been there before but apparently didn't learn much. Several birds flew around the boat, apparently lost in the fog. One landed on the outside and finally another one landed Jim's shoulder while we were en route home, riding there for a couple of miles. I took a picture and a friend said it's a Pine Warbler migrating through the U.P. Click on picture to enlarge. We ended with 7 Lakers and a Coho and the fog had lifted somewhat for our return trip.

16 Sep 19 With the Presque Isle Marina closed, Jim and I launched at the Cinder Pond. Another ill-designed launch where you can hardly turn your boat around but the launch went smoothly. It's now 4 miles further to our favorite fishing spot but conditions were excellent so off we went. We set lines at 125' and worked our way to the 115' - 145' depths. The Johnson rod hit after about 15 minutes and ultimately produce 3 Lakers, one over 7#. With 8 Lakers in the box and nearing the place we started and planned to quit, Jim said he had one on the stacker. I asked if he perhaps had one on the other lure and he said he didn't think so but took the line up and voila, our 10th Laker on a single-line double. So off we went after 2 hours, 45 minutes of fun. Never saw another boat until returning to port.
9 Sep 19 Yup, lots of wind recently. With one fishable day since my last trip and wouldn't you know, I had other commitments. But today was an opportunity with light SE winds as Jim and I headed out, setting lines at 118' and targeting the 140-160 depths, thinking we knew what we were doing. Action started slowly but gradually things picked up, the Johnson rod producing a 5+# Laker and we began to see lots of marks, catching some. Then a double and triple. We then had 7 nice-sized Lakers in the box and of all things, caught a 7# Chinook in 140' of water. Wow, what a pleasant surprise. The breeze slowly picked up from the SE to 8-10 mph so we turned to head into it. After an hour, we caught one more Laker despite retracing our GPS track. So we wrapped it up in 3 hours with a nice catch, probably the last nice day for a while given the rainy and windy forecast for the next several days.
31 Aug 19 We had heard of good catches beyond where we usually fish so Jim and I decided to head that way and not do our usually missionary position fishing run. Well, it seems we didn't go far enough, finding 90' water and rocky bottom. We fished that over half an hour to 120' but nary a mark or a hit. So we both wondered how far to the waypoint at the end of my usual route. Turned out to be only a mile so we turned around and trolled to it. No marks or hits en route but once we got there at 140', the graph screen lit up with marks and we started with a double, then steady action, then a triple. Short of it is we ended with 10 nice Lakers in a little over 2 hours. What a change from my last trip. Seas were great as was the temperature. So much for planning not to fish our usual run because we ended up doing it.
24 Aug Finally, another nice day as I set out on my lonesome, lead inmate in charge of the asylum. Didn't take long before a 10# Lake hit at 119' and some ugly netting swipes took place but finally with success. Another hour passed and finally another hit and success. Then, nothing so I finally wrapped it up after 2 1/2 hours but it was a great day on the Big Pond. It was take a veteran fishing day so the launch and water were a little intense, but I did this for several years and hey, I'm a vet and took myself out today.
17 Aug 19 Wonderful conditions and so glad to have Grandson Cooper Smith (18) along. We set lines at 130' and within 10 minutes, the Johnson rod bent over, only to have the good-sized Laker get off out of reach of the net. Then slowness set in and finally a rigger produced a nice 8# Laker. More slowness and whence we were just pulling gear, the starboard hit and there was another on the port rigger. Super day!
12 Aug 19 Beautiful day as my guest Norm Dill and I headed out to set lines at 130'. Plied that for nearly an hour without a hit and finally hit a couple of Lakers at 190'. So with 3 in the box, we were wrapping it up when we discovered a 4th Laker hanging on one of the riggers (not mine). LOL.Still slow going. Lakers must have turned their calendars back to July. (:
10 Aug 19 I won't bore you why It's been a week before getting out. But today was fantastic. Almost canceled as I don't trust north wind forecasts, but out I went to a slightly rolling seas, which selltled to calm after I set lines at 120 feet. Just as all the gear was down, the Johnson rod really bent and I cranked that Laker to the back of the boat where he said goodbye. OK, got my miss done. Stuck with the 115-130' depths and slowly picked up 4 Lakers. There was some ugly netting but fortunately, none missed. So I fired the netter but realized it was me so I hired me back. I thought with 4 in the box I'd go to 3 hours, and not worry about my limit. Well, with 15 minute to go, the Johnson produced the 5th Laker. Fantastic day, not to repeat myself.
3 Aug 19 With high optimism, Jim and I headed to our comfort zone and set lines at 120', which worked last time eh? Well, it wasn't long before an 8#+ tugged on the rigger line so sprits were high. Like last time, an hour passed of the 120'ish fishing with nothing so we branched out, working deeper water. Again, slowly we picked up a few more Lakers from 180' to 220'. Conditions were wonderful, albeit a north breeze that kicked occasionally but not a problem. So after 3.5 hours we wrapped it up glad to have 7 Lakers in the box. Truth be told, neither of us can count as at home, there were only 6. First time we've ever miscounted. Yeah, right.
1 Aug 19 What a great day! Calm winds and seas could not have been better. Jim suggested trying in 120' so we did and quickly got a double. So we plied around that depth for an hour without another hit so we headed deeper where we slowly picked up 6 more in depths from 170' to 230', one with a green tag (but not mine). With 8 bigger Lakers this year in the box, I logged us out after 3+ hours and we were ready to pull lines when Jim's rigger bell rang, then mine. Then Jim discovered he had a single-line double so we had to release one. Jim said he was so glad not to get a call to play golf instead of fishing. He complained all month that July was a poor month for Lakers so here we are on the 1st of August and we limit out. I suppose I'll hear about that occasionally. Guess the Lakers must have turned their calendars over. LOL
28 Jul Great forecast that came true as Jim Price and his friend Steve Kositzky and I motored to our one of our favorite spots on calm seas and winds. It wasn't too long before a hit and miss on the Johnson rod. Slowly we picked up two nice-sized Lakers. An hour passed without a hit, then suddenly, we had 3 more Lakers. We trolled an hour to where we started without another hit. But we had a great time with only one goat rope, which I caused but was able to fix in ten minutes. Here's Steve manning the Johnson rod with a 6+ pound Laker on. Click picture to enlarge.

25 Jul 19 Another struggle as Jim and I caught 4 nice Lakers in 3 hours. However, talking to several other fishermen we likely did better than most. Conditions were beautiful until the 3rd hour when the wind kicked but it was still fishable. We probably marked about 5 fish so they really haven't shown up yet in any numbers.
19 Jul 19 Today was a struggle to catch 3 Lakers as my guest Jim and I cooked in the sun and heat and windless, calm seas. Jim's mantra was "it's July". I looked at my records for July 2012 (which was a banner year) when we were tagging Lakers. Most days we had between 10 and 20 Lakers, the least during the month was 8. Looking at years since and every year July catches were on a downward spiral. What's that all about?
17 Jul 19 All by my lonesome, headed out on a beautifully, calm morning, in a different direction, just for a change. I love the ride, almost as much as putting the lines down, which I did in 180'. Ten minutes passes and the first hit, and miss. An hour passed and finally a score on the starboard rigger. Then the breeze picked up unexpectedly so I turned to run with it The port rigger then acted funny, but not like a fish was on so I brought it up, only to find 2 Lakers on, both of which I got. Not easy alone! Things were slow and with the wind and waves mostly at my back, I decided to fish toward port. OK, the boat was rocking from the waves more than I expected but it was manageable. Not a much later, just when I was thinking about wrapping it up with 3 Lakers in the box, a single-line double on the port rigger. So, I wrapped it up with 5 Lakers, 2 respectable, 3 nursery Lakers, but legal. Fun time under 3 hours trolling.
14 July Beautiful morning with calm seas and winds as my guests Jim Price and Stacy Aho joined me on an earlier than normal starting time. We set lines at 140' and slowly worked deeper. Nearly an hour passed before the first Laker hit on the Johnson rod. There's a shot below of Stacy reeling in the Laker. Click on the picture to enlarge. I don't think we marked but 10 fish the whole 3 hours of trolling but we did eventually pick up 5 more Lakers, but they weren't the marks we saw on the graph. We seldom catch the fish we mark. Fun time, good snacks.

8 July Sometimes when it's so calm and nice, we get overconfident that we're really going to catch a bunch today. Well, Jim and I set lines and patiently waited for a hit for probably over an hour and a half. Finally, the Johnson rod bent over and Jim wrestled in an 11 pound Laker. That was quite a hassle. We finally picked up two more Lakers and bunched it in a little over 3 hours. Jim said he always found July to be dead and I've heard that from others too. Then again, I heard from someone that kicked butt yesterday. I believe it's called fishing.
3 July Couldn't resist a super forecast as my guest David Smith and I headed out in calm winds and seas. We traveled a while but the Lakers were not on the bite. Finally, one in the box and about an hour later, another nice Laker. With two Laker in the box, at around 2 1/2 hours we were ready to wrap it up when we got a double. Fantastic conditions and might I add, well deserved after the crappiy fall and spring. Happy Fourth of July to all!
2 July My guest today was my neighbor, Gary McDonnell. We set out in great conditions and didn't go far before setting the Johnson rod. then one downrigger that shortly hit and missed. Sent it down again and within a minute, did produce a nice Laker. Then slowness set in but finally another Laker. We had a short trip in mind and were just about to wrap it up whence we had a double. So, we ended in a little over 2 hours with 4 nice Lakers on beautiful seas. Great day! Here's Gary working the Johnson rod. Click on picture to enlarge, back button to return here.
1 Jul 19 Great light winds forecasts but thrown in was a threat of shows. However, my guest Norm Dill, a new neighbor of mine and I headed out in near-calm conditions. I'll post a picture of Norm soon. Action was slow but the Johnson rod hit first and Norm steadily reeled in the Laker. We fished 180' - 220' and finally picked up two more Lakers. We decided that with the radar showing showers coming in and we had 3 Lakers in the box, to wrap it up after 2 hours. It rained after we got home. Nice! Here's Norm fighting a mighty fish. Click to enlarge, back to return here.

30 Jun 19 Great forecast and near calm as I headed out to set lines at 125', working slowly deeper. Got the Johnson rod down, then starboard rigger when the Johnson hit. But at least my net was ready and that went fairly smoothly. Gradually the breeze and seas picked up whilst I picked up two more Lakers, Whence I reached the end of my run, the winds from the SE picked up to 10-13 mph from the SE and it was too difficult to fish so I thought, this isn't fun so I bunched it with 3 nice Lakers in under 2 hours.
28 Jun Early rain but as forecasted, it cleared off with calm winds and seas as guests Jim Price and Stacy Aho joined me on a beautiful morning. No specular starts as we set lines in 160' and worked to various depths. Then action picked up and we got "seed" in the box but we had some lean stretches. But here and there we'd pick up a Laker but also missed some real bell ringers. Lots of BS with Jim and Stacy bantering twix fish but we ended with 8 nice Lakers in shy of 4 hours but whose counting eh! The final fish was a goat rope as we were quitting. Hand-lining it in it went under the boat so Jim climbed over the fish box and grabbed the fish, still with the lure in its mouth. Great day and a good time. OK, I thought we had 7 Lakers, until the count at home. BTW, we missed 6 good hits today but that sounds like fishing to me.
27 Jun 19 Early this morning the trees were whipping around in the wind but the forecast was for calm so I waited to launch near 10 a.m. and indeed it calmed off. As I was starting my engine, a Lund pulled into the opposite launch and the passenger jumped onto the dock with the bow line. Then the skipper got on the dock and suddenly his stern swung out and came within inches of my boat and I had to fend it off to keep his auxiliary motor from slicing into the side of my boat. They wrestled it back each of three times and finally I asked them to get a stern line on it and I also noted the skipper not only left his big engine running, but it was in gear the whole time. They finally got a stern line on the boat and turned off the motor. I was so happy to get out of there.
I set out the Johnson rod in 180' and within minutes, it was bouncing with a Laker. I wasn't ready with the net or anything else so I decided to just hoist the Laker into the box as it didn't look all that big and I might release it. Well, it was big enough to keep and it didn't fall off the hook. I then set the two downriggers down and went an hour with zip, only to hit a double. One rigger I set at 199 clicks where it wasn't on the bottom and I could leave it alone most of the time. It was probably 30' off the bottom. Trolling towards port, the Johnson rod hung bottom and I lost the weight and lure, first lure lost in quite a while. I wrapped it up in 2 hours with 4 nice Lakers in the box. Conditions were great, albeit flies initially were pretty bad.
22 Jun My guests today were Joe Heidelberger and his son Ron (14). Conditions were great as we set the Johnson rod down in 180' water. Before we could get the down riggers set up, the Johnson rod connected with a nice Laker which Ron reeled in. In the 2 1/2 hours, we managed 4 nice Lakers and missed a couple. We ventured as deep as 240' where we caught one Laker but our lures weren't that deep. Fun time!
21 Jun 19 Jim and I set out in fairly decent seas in a good forecast, setting lines at 120', just to test the shallower waters. After half an hour we'd worked to 180' and boxed a Laker. Then the doldrums set in and we went over two hours with no runs, no hits, and no errors. On our way to where we started, via a different route, we were ready to wrap it up (yea, a little whining in the interim only have one Laker) whence we got a triple. WTF! These are what I call eleventh-hour fish, just before quitting. Yes, it was a wonderful day on the Big Pond even if that last burst hadn't happened albeit a little cold at times.
18 Jun Ah, ha, conditions looked perfect. Tree leaves were not moving, great forecast, and all was calm so what more could I ask for a perfect morning fishing run. I launched in the windless marina and headed out around the breakwater to 2-3 foot close-apart rollers. What a surprise! Down went my trim tabs and I headed out for a short run. Well, I've been in rollers many times and most I didn't mind but these were so close together, I could hardly stand steadily in the boat. Big time rock and roll. So I thought I'll just put the Johnson rod out as I was actually uncomfortable rigging the riggers. Well, I sent the Johnson rod out, wondering if that was a good idea, whence it wasn't out for 30 seconds when I got a Laker on. Huh? I slowly reeled it in and thought I wouldn't net it, just lift it into the box, hoping it would fall off. Worked too well and it was too well hooked to release. So out went the Johnson again as I hate cleaning just one Laker.
Ran for another 15 minutes, still fishing one lure and caught another Laker, probably 50' off the bottom. Another huh! So after 45 minutes heading into the rollers, I turned and set one rigger down, only to have two false breakaways (not fish) so I rigged a stacker line which cured that. Caught a third Laker on the rigger stacker line and I decided after 1 1/2 hours to hang it up and I was glad to get off the Lake, and that doesn't happen often. Surprisingly, despite calm wings the Lake didn't settle much but the NE fetch is a long one.
16 Jun Another cold, but finally clam start as my guests were Jim Price and his son, Bryan. Neat Father's Day! So we set lines at 140' and quickly slipped to our comfort zone 180'+. It wasn't long before action picked up. Short of it was, we had 5 Lakers in the box in the first 45 minutes, but of course, things really slowed down. Seas were behaved and we turned to run back in the same track coming out. Then the cold breeze from the NE picked up but we picked cup 3 more Lakers before quitting after 2 1/2 hours. The air was 43º and water 44º, time to quit but a great day reigardless.
11 June My guests today were my Grandson Cooper (18) and his girlfriend, Gloria (17). Seas and winds were calm as we set lines in 180'. Action was really slow but we eventually ended in 2 1/2 hours with 3 nice Lakers.
7 June I headed in a different direction, so if the wind proved more than the 0-10 mph predicted, I could return with the waves. Missed the first bell ringer but shortly thereafter, landed a nice Laker. Then the Johnson rod barely moved so I thought best to check it out. Sure enough there was a dink Laker on so I just lifted it up to remove the hook and released it. Caught 3 more keepers and by then the winds were at a steady 8-10 mph with 1-2' seas so I fished towards home port for another 45 minutes without a hit. Sound familiar? Some of my netting was ugly but I didn't miss any. Water surface was 41º, air temp 47º, and returning home it was 77º. I put some wear on my coat doffing and donning it several times.
6 Jun Finally calm seas as Jim and I set lines at 180'. Action was fairly steady and at the 3 hour mark we had 7 nice Lakers in the box, nothing very big. Seeing as it was so nice, we decided to try for another one or two for forty-five minutes. Well, we should have quit at the 3-hour mark. Fun time.
4 Jun Good forecast for fishing seas but the reality was different as my son-in-law David Smith and I headed out to 10 mph SE winds and 1-2' seas. But it was supposed to calm off but didn't. We had a double but lost one on the down-wind leg. We turned into the waves and wind but found fishing too difficult and bunched it shy of 2 hours. Returning to the launch, the seas and wind had settled significantly. The ramp dock was under water and I had to remove my shoes and socks to get the trailer. Returning, the minor seiche receded and the dock had no water on it.
3 Jun I awoke to 39º and thought it to be a cold day but the forecast was for calm seas so out Jim and I went. Turned out seas and wind were calm and comfortable to fish. We picked up 8 Lakers in a little under 3 hours. We thought we had 9 but a recount at home proved our math wasn't all that good. Most were caught between 180' and 210', several 10-20' off the bottom, kind of unusual.
1 Jun 2019 Note the date as Jim and I left port with air 44º but a doable ride in rollers to our destination. Slow day but that what lots of us fishermen say. Fished mostly 200'ish depths and it was our day of missing Lakers, But we ended 7 for 11. The ones we missed were almost all behind the boat and not the result of my usual netting miss cues. Anyway, the Pond settled over time and was surprisingly calmly to when we left. Fished longer than usual because it was so nice. Water surface was 40º and at the launch when we got in 44º. Great day!
27 May Iffy forecast for rain but great calm forecast so out Jim and I went to sprinkles but in mild rollers. We set lines circa 180' and generally worked that to around 210'. Action was, as usual, sporadic and we had sterile stretches, and then two doubles. Ran across a patch of probably 20 huge marks at around 165' and they all had lock-jaw. But, we wandered back to the depth we thought best and caught our limit . It sprinkled rain off and on but seas were great, slightly rolling, and no wind - great day!
Items of possible interest: Just so you know how cold our spring has been, I'm still using the same block of ice that I put in the fish box that I started with first trip and this is after our 7th trip. OMG!
26 May With my guest Jim Price we thought we'd run to our ole fishing haunts seeing as it was so settling calm after all the wind yesterday. Down went the gear and slowly we managed a Laker here and there, mostly in around 200'. Conditions were excellent until the last 20 minutes when the cold winds kicked from the north, producing small whitecaps, whilst we were looking for our 10th Laker. Well, the starboard rigger hit, then the Johnson rod, then the port rigger. We boxed our first Laker and wonderfully, the other two got off. Perfect timing as we headed to port. Great day!
21 May My plan was a short time and distance trip. Conditions were excellent with calm winds and seas. The first Laker came off the port rigger which barely moved when the Laker hit. History told me check it out and there it was, a small Laker. At the same time, the starboard rigger bell rang but that one got off. Later, the Johnson rod produced a 5# Laker which by a miracle fought hard and being by myself, did one of my uglier netting jobs but it was successful. The third Laker came off the starboard rigger, at roughly 200' of water, like the others. At the 3 hour mark, I wrapped it up with 3 Lakers in the box and two misses. Just a lot of fun with such wonderful conditions.
13 May Scary such another fantastic, calm day as Jim Price and I set out to run a bit when it's so nice. Before we left the launch I mentioned I hadn't seen any skim ice in a few years but here it is, mid May so there probably won't be any. Well, out we went and within the harbor, the boat started crunching through skim ice. Quite a bit too. Looked at the water temperature which was 43º so go figure how it forms. I was concerned it would damage my transducer, but it didn't. We thought once out in open water, there would be no skim ice. Wrong! Ran into some heavy patches en route where the surface water was 38º. But, it was clear when we got to our destination so we set lines at 180' and worked that to 200'. Picked up 6 Lakers in 3 hours. Conditions were perfect with calm winds and water but the air was 45º but with no wind, excellent. Great day!
12 May Short version is guest Jim Price and I headed out, not too far and before long a nice Laker was in the box off the Johnson rod. Forty-five minutes later the starboard rigger bounced and another Laker showed up. Finally, the port rigger produced another nice Laker. Well, that's slow spring fishing for me, but wonderful to be on the calm but cool waters again. Took my winter coat off for a short time enough to keep it in arms-length. Yup, back with the winter coat ten minutes later. Not to complain as winds were under 6 mph but when it's 45º, wind chill still happens. Anyway, great time on the water. Wrapped it up after3 hours with 3 nice Lakers in the box. Marked 2 fish the whole time.
11 May 19 Finally a decent forecast and as it turned out, the forecast to <10 mph winds was true. My special guest was my Grandson Cooper Smith (17), whose enthusiasm was wonderful. We set out the Johnson and then his downrigger. Shortly after that, the Johnson rod was bouncing. Cooper reeled that one in and we thought we were going to be there for the bite. I didn't even have time to get my rigger down but did shortly thereafter. As usual, considerable time passed as we marked more than usual but they all had lock-jaw. Eventually, we picked up two more Lakers, all being very close to 4# each, nice! Winds behaved and were steady around 8 mph from the SE. We bunched it after 2.5 hours, quite please with our excursion.
28 Apr 19 Great calm, but cold forecast as guest Jim Price and I arrived at the marina. Shocking, but only two vehicles in the lot. First we struggled to get both motors fired up, but eventually they did. So we travelled a bit and set lines at 150', venturing to 240+' with nary a mark or hit for 1 1/2 hours. Water was 36º, air 37º but slowly the light north breeze picked up and clocked to NE at10 mph. Then the port rigger hit and then the starboard. The port rigger came up dry but the starboard rigger had a single line double, two nice Lakers on one line. Short of it is the second one got off right behind the boat so we ended with one for three in 2 1/2 hours but everything worked, a good shakedown run. Not overly productive but we got out of the house and didn't get skunked and no goat ropes.
7 Apr 19 Setting up the log for the coming season. Boat's not ready yet and either am I until it gets warmer.
The following is copied from my fishing-related comments in March 2000. I was going through some of my tackle and remembered that experience. Some of you might relate.
17 Mar 00 Two-Tackle Box Syndrome. It all started about a week ago when I was rigging a few rods to fish the breakwater for whitefish and Coho. I bought a few small hooks at a local tackle shop, then tied up a small swivel and tested the line, which promptly snapped. The line seemed bad so my idea was to change reel spools with a better line. Now where was that spool? It must be in my other tackle box in the basement. Well it wasn't there but I did see some things in it that I forgot I had, some duplicate of those in my main tackle box, whichever was my "main tackle box." Thinking I should consolidate some of this stuff I opened the two boxes and started. Then I remembered the box of miscellaneous stuff in my other attic tackle box. I also had a box of stuff on the top of a shelf...and a drawer of loose gear. Pretty soon, I had fishing gear strewn all over the place. I found I had hooks exactly like the ones I just bought. I rarely fish for Walleye but had enough tackle to start a small store. Ironically, when I fish Walleye, I usually use only a couple of the same lures but I'm always prepared with other lures. It's the same for fishing on Lake Superior - a couple of spoons is all I use. This I refer to as the Missionary Fishing Position -- if something works well, why change? Ironically, it doesn't often work for Walleye.
My attention span was about the same as my 4-year old grandson. I would get to working on some of this tackle and soon get sidetracked. Before long, I was working on something completely different. At this point I still had not located my spool but did discover another reel that would probably work. With 5 tackle boxes, boxes of gear, drawers open and gear cast about, it took about 4 days to consolidate my gear. In the process I eliminated only one small tackle box but now will always know where my stuff is when I need it...it'll still be in one of my tackle boxes that I don't have with me.
When looking for things, I often think, "where would a logical person put that item?" My seemingly logical concept is often anything but logical. I seem to remember things best that were originally put in stupid places. When I move items to a "logical" place, the litany of "now where did I put that" inevitably starts weeks or months later when I'm looking for them. When I ask myself the question where I probably "logically" put them, my current logic usually says the items are somewhere else. So much for logic!
Nearing the end of this tackle consolidation saga, all of a sudden a light came on that there was yet another drawer of mostly miscellaneous items containing some tackle items. Guess what, at the bottom of the drawer was the spool that started this whole adventure even though I stopped looking for it. No logical reason it was there. I didn't do much to straighten that drawer because everyone needs a drawer or box to just throw things in as a "holding area" until or should I say if one decides to "get organized" someday. OK, so I had more than one of these drawers and tackle boxes.
So what have I learned from all this? Really there are several principles involved here. The first is an axiom that can apply to anything from organizing tackle to computer files - the more you break things down or store things "logically" the more complicated it becomes and the harder to find. The second axiom is what I refer to as the "Mushroom Effect." This effect normally starts as an innocuously small project (such as this one) where in order to accomplish the one small thing you wanted to do soon leads to another project, usually more complicated and expensive, and soon the whole project mushrooms out of control. Plumbing jobs are excellent examples of the mushroom effect. The third axiom is not to stop buying fishing gear even if it's unlikely you'll need it because you really can't be sure you won't. That's assuming you can find it when you need it. This last axiom may cycle one back to the two tackle box syndrome as if you buy several of the same items, you can put one in each tackle box (hopefully not all in one) or put them in different locations. This principle also applies to house tools kept on the boat.
Now that the goat rope exercise with tackle is largely behind me, I moved on to the supposedly simple task of putting new line on my downrigger rods. However, that's another story for another time.
You are visitor number 1,000,007 (just kidding)