Jan 1st, 2019
Happy New Year!
I have to say the Michigan 420 legalization surprised me but it is certainly about time! The info below documents my personal approach to growing my own MJ, for whatever that's worth.
The first link is a seed bank in the USA on the west coast hich sends seeds with usps tracking for under $10. They have seeds for $3 and include free seeds with every order. click here .
A great library of growing info and turorials .
germination and care of seedlings here .
*************
1/9/19: put a Sour Daddy Auto seed in distilled water. Amb. temp 74deg.
3/16/19: this plant was a female but did not grow as large as expected,just 14" tall, likely due to user error with a 'hempy' growing method and the associated hydroponic nutrient appliclation. Although the grow light is a 1000W LED full spectrum it was grown in an open closet with low humidity and without light reflectors.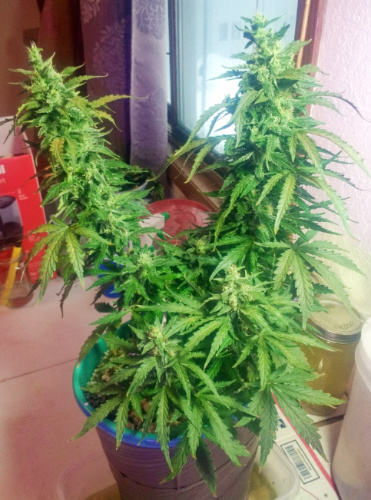 Auto-flower seeds do tend to be smaller than photo-period strains. A 4x4 grow tent will host some photo plants later this year.
**************
Seed inventory 3/16/19:
************************
3 Auto Durban Poison® from Dutch Passion Seeds This Sativa dominant autoflower can be harvested 10-11 weeks after germination and will grow fast and tall, with plenty of side growth, just like the original. Auto Durban Poison® tends to take longer during vegetative growth than other autoflowers, which can allow her to grow a little taller. Seed to harvest is 10-11weeks, heights are typically 80-100cm, and occasionally she can get taller. Yields for the average grower are 75-100g
************************
3 Sour 60 (Lowryder x Masterkush x Blueberry x Sour Bubble) from Mdanzig is a super fast auto-flowering hybrid created from a mesh of celebrity strains and designed for speed. She will finish in 60 days, hence the name "Sour 60". It excels under 24 hours of constant light. We recommend growing them naturally (no stress training, no topping).
************************
3 Haze XL Auto-Flowering Feminized. A 60% sativa combination Haze and Jack Herer strains with yields of 400-500 g/m2 when growing indoors, and as much as 200 grams per plant outside, 80-90 days.
************************
5 Tangerine Dream Autofem: 60% Sativa / 30% Indica / 10% Ruderalis Flowering Time 55-65 days Indoor Yield 400-500g per m2
************************
6 regular photo period Santa Marta Colombian Gold IBL (inbred line), created by Sam the Skunkman. This is the same old school strain many of us grew up on as young stoners. Gold is good for pain, stress or insomnia. Also good for PTSD, ADD and ADHD. Flowering period is 10 to 11 weeks.
************************
4 regular Rusty Glue F2 (Rusty OG F2 x Jedi Glue F2) Indica hybrid F2 strain, crossed from the PTP (purple) pheno of Rusty OG, is a very frosty and very potent strain grown indoors or outdoors. This powerful indica hybrid is very popular among medical cannabis users for it's high THC potential and awesome taste. Couch-lock is unavoidable as the high hits you instantly, and yet it still keeps creeping until you are completely stoned in a heavy body high. She has a spicy, sweet kush flavor with an earthy aftertaste. The aroma is a strong kush smell. Rusty Glue can reach THC levels reach up to 30% on average for outdoor and even higher for indoor. Rusty Glue will get very big outdoors but it's a heavy yielder indoors as well. This tasty indica medicine is very good for pain, stress, insomnia, and nausea. Also good for PTSD. Flowering period is about 8 to 9 weeks..
************************
Suggestions for this page or questions are welcome, email Weed4U@yoopernet.com.